"In many ways, the work of a critic is easy. We risk very little yet enjoy a position over those who offer up their work and their selves to our judgment. We thrive on negative criticism, which is fun to write and to read. But the bitter truth we critics must face is that, in the grand scheme of things, the average piece of junk is more meaningful than our criticism designating it so. But there are times when a critic truly risks something, and that is in the discovery and defense of the new." - Anton Ego.
Pixar no deja de impresionarme.
No creo que exista otra compañía tan consistente con el nivel de excelencia de su trabajo.
Se decía que esa racha de perfección no podía durar tanto, y muchos consideran [yo incluído] que el año pasado con Cars no estuvieron a la altura de sus trabajos anteriores. Ahora con esta película se comprueba de nuevo que un error lo comete hasta el mejor.
Una de las cosas que más me gustan de Pixar es la atención que ponen a crear y contar buenas historias. Pero una buena historia no basta, y los genios de Pixar lo saben. La forma en que se cuenta es tan o más importante aún.

Walt Disney, quizás el artista popular más importante e infuyente del siglo XX, decía que por cada sonrisa debe haber una lágrima. Hallar ese perfecto balance entre la comicidad y la seriedad ha sido una de las recetas del éxito de Pixar.
Utilizando esta fórmula, Ratatouille es una celebración del arte - uno de los mejores retratos sobre el arte y su proceso de creación que se hayan hecho en el cine.

El talento y la excelencia se pueden encontrar en cualquier lugar, incluso una rata. Como decía el chef Gusteau, "anyone can cook." Hasta el más sencillo de los platos, un "guiso de campesinos" como uno de los chefs se refiere a la famosa salsa Ratatouille, puede ser la mayor de las obras de arte.
Remy es un artista hasta en su caminar. Se niega a caminar en 4 patas como cualquier rata e insiste en lavarse las manos antes de tocar cualquier alimento.
Como dice uno de mis críticos favoritos, A.O. Scott del The New York Times, como The Incredibles y The Iron Giant del mismo director Brad Bird, Ratatouille "celebra la apasionada, y a veces agresiva búsqueda de la excelencia."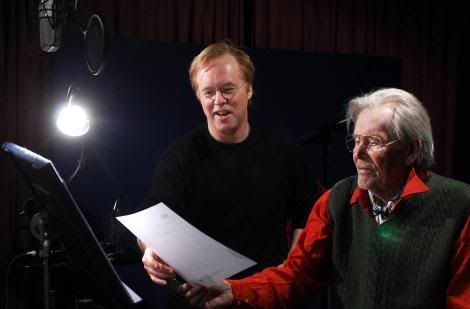 El elenco de voces no puede ser mejor, pero hay que resaltar el trabajo de la leyenda viviente Peter O'Toole, interpretando crítico Anton Ego. Al igual que los demás personajes, la vida de Ego es transformada por Remy. Los años lo han vuelto cínico y amargado, y le han hecho olvidar que se inició como crítico porque ante todo amaba la comida. Un ratón le han hecho redescubrir esa chispa que despertaban en él los sabores.

Visualmente es a lo que Pixar nos tiene acostumbrados - una atención al detalle meticulosa, y a esto se suma una labor fotográfica pasmante, tanto por el ágil movimiento de la cámara mientras seguimos a Remy por las alcantarillas, rincones de la ciudad, saltando de un bote a otro en el Sena y sus aventuras dentro de la cocina, como por la belleza de la ciudad de París, que no puedo recordar otra película en la que se haya visto tan hermosa.
Los que somos amantes del cine debemos sentirnos afortunados de que estamos siendo testigos de una nueva era dorada de la animación.
Walt Disney, dondequiera que esté, debe sentirse satisfecho. Su legado no pudo haber quedado en mejores manos.
Hace mucho que no salía de una sala de cine con una sonrisa de satisfacción tan grande. Me quito nuevamente el sombrero ante Pixar.
¡Disfrútenla!
Tweet this!