Viniendo del hackteur que es Michael Bay, me sorprende que haya sido capaz de crear una película tan entretenida y consistentemente graciosa [intencionalmente graciosa, a diferencia de Pearl Harbor], al tiempo de hacerle justicia al espíritu de los dibujos animados originales con los que crecimos la generación de los 80. Puede que no sea mucho decir, pero este es definitivamente el mejor trabajo de su infame carrera.
Pero claro, comparte con todas sus demás películas algunos problemas que parece que vienen de fábrica con su estilo, y que ya hay que aceptarlos como un hecho cuando se ve algún trabajo suyo:
Los diálogos por momentos insufribles, con frasecitas tan fabricadas ["No sacrifice, NO VICTORY!"] que el expectador SABE que en algún momento uno de los personajes encontrará el momento oportuno para repetirlas, con la correspondiente música solemne de fondo, por supuesto. De igual forma, sus cortes rápidos y sus repetidas tomas "dramáticas" de 180 grados a uno de los personajes para resaltar su tensión. Cuando iba por la cuarta, dejé de contar.
Pero sin duda, el problema principal de la película es que los últimos 20 son tan intensos y, como en la mayoría de las películas be Bay, la edición es tan rápida, que el expectador por momentos se pierde y no sabe quién pelea contra quién, quién se murió, quiénes son los buenos y quiénes los malos y qué carajo es que hay que hacer con el bendito cubo.
Los aspectos técnicos son de primera categoría, comenzando con los efectos especiales, que son probablemente los mejores que se han hecho desde que usar CGI se hizo una regla. La for
ma en que los Transformers interactúan con los humanos y la manera en que encajan seamlessly con los elementos reales es verdaderamente impresionante. Cuando escuchamos esos efectos de sonido tan familiares durante los créditos, o la primera vez que vemos a Optimus Prime y escuchamos la clásica voz de Peter Cullen, nos sentimos como si tuvieramos 8 años nuevamente.
Shia LeBouf, el Breakout Star of the Year, carga con la película en sus hombros demostrando que tiene mucho que dar y entendemos qué vio en él Steven Spielberg para escogerlo como el hijo de Indiana Jones en la próxima película de esa saga a estrenarse el año próximo. Todos los demás están bien, a excepción de Jon Voight haciendo el peor acento sureño que he escuchado en mucho tiempo. Coincidencialmente, la bellísima Megan Fox [el obligario romantic interest del héroe por accidente] parece un clon con 10 años menos de su hija Angelina Jolie.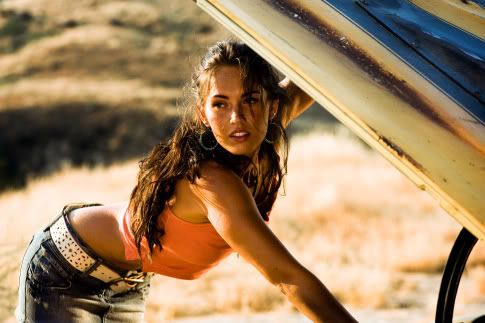 Como se demostró con Pirates of the Caribbean [la primera solamente, que quede claro], basada en un simple ride de Disney World, es posible crear una buena película alreador de un concepto básico, tomando esos elementos básicos y expandiéndolos para crear un historia que dentro de su propia inverosimilidad es verosímil, con sus propias reglas y un universo bien definido.
Por encima de cualquier problema, Transformers es cine de evasión bien hecho. A pesar de sus limitantes, Michael Bay logra crear un producto -porque dejemonos de pendejadas, esto es ante todo un producto de consumo, como una mano de plátanos ó un carro de General Motors de los tantos que vemos en la película- que cumple su objetivo de entretener sin dejar a la audiencia sintiédose engañada. Con 15 ó 20 minutos menos de duración hubiera sido mejor todavía.
Tweet this!